McMullan Realty, Springhill - Announces Opening of Their New Website
Denny McMullan of McMullan Realty Company in Springhill, LA, announces the opening of their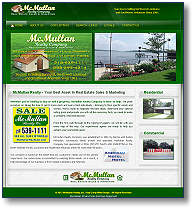 re-designed website as of 2012-08-06, with all current listings now available at: www.McMullanRealty.com.
Whether you're looking to buy or sell a home, commercial or investment property, McMullan Realty Company can help. They take pride in taking the time to get to know each and every client individually - listening to their specific needs and wishes. They are ready to negotiate the best deals, determine your optimal selling price and provide you with all the necessary facts you need to make a confident, informed decision.
From the first walk-through to the signing of papers, McMullan Realty will be with you every step of the way. Their experienced agents are ready to help you achieve your real estate goals.
McMullan Realty Company was established in 1961 by Dennis and Evelyn McMullan. Continuously family owned and operated, McMullan Realty Company has specialized in REAL ESTATE SALES AND MARKETING in the North Webster Parish, Louisiana and Southwest Arkansas areas for more than 50-years.
Denny McMullan, broker at McMullan Realty, stated "We were looking for a web designer to re-build our existing site and someone that we could depend upon to maintain our site in a timely manner. After reviewing several area realtor sites, we came across Claiborne Parish web designer, Key-Comp Web Design, we visited the Key-Comp sites for Claiborne Parish realtors and were very impressed (JT Taylor Realty, Northest Properties & Toney Johnson Real Estate). We contacted Joel Ponder of Key-Comp Web Design, he subsequently submitted a very reasonable proposal for the design and maintenance of our site. We accepted the proposal and have been very pleased with the results. If any of you know anyone who wants a new website or has a site that is in need of a re-do, we strongly recommend Key-Comp. You can contact Joel via his new website at: www.KCWD.com."
Ford Museum Seeking Veterans' Photographs
The H.S. Ford Museum has received a grant from Entergy that will enable us to make its exhibits more interactive. Our first emphasis will focus on honoring our military veterans, especially those with a connection to North Central Louisiana. For this project, we are requesting the public's help in gathering photos, formal as well as candid photos that capture everyday life in the military. Artifacts and photos are needed from the Civil War era to the present. Items can be sent to the museum at or mailed to P.O. Box 157, Homer, LA 71040. The museum is opened Monday, Wednesday, and Friday from 9 am to 4 pm for anyone wishing to deliver material in person.
Hilltop Campgrounds & RV Park announces opening of their website
Hilltop Campgrounds & RV Park (Princeton/Haughton, LA) is proud to announce the opening of their website as of 06/10/2012, online at www.HilltopCampgrounds.com.
Hilltop Campgrounds and RV Park is a work-camper, family and pet friendly park located just minutes from I-20 and I-220. The park is always clean with on-site management and maintenance for a worry free stay. The rental prices include lot, electric, water, sewer and trash pickup.
The park is located less than five miles from Haughton and 3 minutes from I-20 (Haughton/Fillmore exit - Hwy 157 North), and just 10-15 minutes from all the Hottest Gaming Locations in Shreveport-Bossier.
The park is open to the public year round. Features include Fishing and Swimming in their 5 acre natural spring pond. hiking & biking nature trails and beautiful, peaceful & serene surroundings throughout the year.
The park owners stated that "We contracted a Claiborne Parish based website designer, Key-Comp Web Design, and are very pleased with the results and recommend their services to anyone needing a new website or a face-lift of an existing site . Key-Comp can be contacted via their website at www.KCWD.com."
Golden Eagle Training & Safety - New Website
Steve Risner (Homer, LA) and Butch Shaver (Shreveport, La) announce the opening of their new Golden Eagle Training & Safety website, now online at www.DefensiveTraining.us.
For more than 18 years the founders of Golden Eagle Training & Saftey (GETS) have certified nearly a thousand Law Enforcement/Correctional Use of Force Instructors and certified over seven hundred civilians in Carry Concealed Handgun Classes for permits to carry concealed.
GETS offers Instructional/Certification courses for the General Public, Law Enforcement & Corrections, School Resource Officers & Staff, Churches, Organizations and Companies.
GETS training for the public includes: Carrying Concealed Handgun Permit Class, Personal Safety Course, Women's Safety & Self-Defense Course, Sexual Harassment and Rape Prevention (known as SHARP), Weapon Retention & Disarming (if you carry a firearm, you need to know how to effectively retain it or disarm someone who has one), Escape & Evasion, and Advanced Carrying Concealed Handgun Courses.
Certification courses available for Law Enforcement and Correctional Agencies include: Defensive Tactics (DT), Impact Weapon (IW), Weapon Retention and Disarming (WRD), Ground Avoidance/Ground Escape (GAGE), Spontaneous Knife Defense (SKD), Inmate Control, and Pressure Point Control Tactic (PPCT).
For the educational arena (School Resource Officers & Staff) they offer: Safe Schools Resource Officer (SRO) Training & Certifcation, Basic & Instructor Certification Classes in Human Factor Research School Safety ( Bullying) & Healthy Children and Disruptive Student Management (DSM).
They have also held "Surviving a Critical Incident Courses" for churches in Bossier City and will be glad to do the same with any church in your area.
Steve Risner said "We have contracted Joel Ponder, long time resident of Claiborne Parish, and designer/webmaster of many of our local area websites, to rebuild our website and we are very pleased with the fine job he is doing for a very affordable price. If any of you know someone who wants to start a website or has one that needs a facelift, we strongly recommend Mr. Ponder. You can contact Joel via his new website at: www.KCWD.com."
Local CPA Signs On as ClaiborneOne Sponsor
The accounting firm of Steven J. Koskie, CPA LLC has signed on as a sponsor of the ClaiborneOne website.
Steve Koskie, Managing Member of the firm said, "Back in the fall, we decided we were going to enhance our presence on the internet. So many people now use the internet as a key way to get news and information. By improving our website and overall web presence, we felt we could achieve two important goals. They are, first, to be of more service to our existing clients and, second, to more effectively reach out to new clients."
After reviewing the web traffic statistics for ClaiborneOne the decision to become a sponsor was made. "I was surprised by the amount of web traffic that goes through the ClaiborneOne web site. ClaiborneOne provides a great service as a 24 hour a day clearinghouse of parish news and information that reaches literally around the world."
Steven J. Koskie CPA LLC is located at 417 North Main Street in Homer. The firm focuses on preparing personal income tax returns, business income tax returns, and bookkeeping/accounting services for business. The firm also provides a variety of financial planning services for individuals and consulting services for business.
"Our experience covers a broad horizon. We have a lot of experience in oil & gas as regards income tax, lease negotiations, and royalty/working interest accounting. We also are very engaged in agricultural endeavors like poultry farming, timber farming and cattle operations. Through the years, I've helped manage some very significant investment portfolios of stocks, bonds, and limited partnerships. When it comes to helping businesses, having 10 years experience as a controller and CFO for significant private companies gives me a unique hands-on perspective of what business owners face in their daily lives. I know their problems and opportunities because I've lived with the very things they deal with everyday. Plus the fact that I've dealt with the day-to-day business decisions of my own firm for a decade."
"We look forward to serving the citizens and businesses of Claiborne Parish and the surrounding area for many years to come. We have a vested interest in the growth of the area and work hard to provide a high quality service. This means much more than delivering a tax return or a set of books to a client. We have the privilege of helping people live their lives and manage their resources. That responsibility to our clients is why we say our income tax, accounting and consulting services require we make a point to 'Provide more than numbers on a page'."
J.T. Taylor Realty/Dimex Sales - Now Online
J.T. Taylor Realty has provided Real Estate Sales and Buyer Representation in Homer, Haynesville and Claiborne Parish for Commercial, Residential and Timberland Properties since 1984.
With over 56 years experience in the Commercial and Home Markets, J.T. Taylor offers a wealth of knowledge To Help You Avoid the Pitfalls of Buying, Selling or Remodeling a property!
For over 10 years, Dimex Sales has offered a full line of Portable Buildings for Home, Home/Office, Construction Sites, and Storage needs.
Based in Claiborne Parish, Louisiana, DNG Consulting, LLC provides a wide range of consulting services to meet the needs of a variety of client types. DNG Consulting assists clients in Mergers & Acquisitions, Management Organization Study & Re-structuring, Project Management, Critical Path Recovery Scheduling, Construction Claims Analysis, Business Development, Professional/Technical Recruitment Services and Fuel Services.
Don Grimes, President of DNG Consulting, and wife Bea are long time Claiborne Parish residents. The Grimes' have been involved in promoting Claiborne Parish for many years.
Key-Comp Web Design Announces the Opening of their Redesigned Website
Key-Comp Web Design was originally established in 1980 as Key-Comp Computer Services. Providing computer programming and support services in Monroe, LA, Ouachita Parish, re-locating to Claiborne Parish in September of 1987.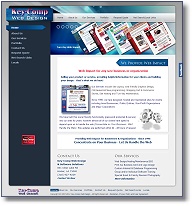 Since 1996, Key-Comp has provided web site design, hosting and maintenance to a variety of businesses and organizations, including those in Homer, Haynesville, Tulsa, Monroe, Shreveport, El Dorado, and Gibsland.
Key-Comp's services also include Print/Web Ad design, Business Card design, Logo design, software training, system analysis/purchasing, custom database programming and Special Event & Family Reunion Photography. Visit Key-Comp's Portfolio to view their work.
Key-Comp is operated by, long time Claiborne Parish residents, Joel Ponder & Pam Thompson-Ponder (Pet Pampering Grooming & Boarding) with photography and graphics design assistance by their sons, Homer High grads, TJ & Tanner.
Key-Comp designed many of our local sites including ClaiborneOne.org (which includes Claiborne Parish Police Jury, Town of Homer & Town of Haynesville), ClaiborneSheriff.org, Claiborne Chamber of Commerce, J.T.Taylor Realty & Dimex Sales, Northeast Properties, Toney Johnson Real Estate, Advertising Unlimited, and DNG Consulting. Key-Comp's Portfolio presents legacy/retired designs that include Allison Law Firm (Shreveport), Homer Memorial Hospital, Hall Boat Lifts, Speech Language Pathology & Associates and Gibsland Bank & Trust.
Key-Comp's new sites are produced using the most current & popular Content Management Systems (CMS) that will allow their clients to easily add and/or delete content. Key-Comp has built this owner friendly functionality (password protected & secure) into their sites for years, however almost all of their clients have opted to depend upon Key-Comp for maintenance and updates - Key-Comp says "(Concentrate on Your Business - We'll Handle the Web)".
Redesign projects now underway include Golden Eagle Training & Safety and McMullan Realty (Springhill).
For more information on Key-Comp's services visit www.KCWD.com.
Claiborne One Site Now Features Area Image Archive
Money Available for New or Expanding Businesses in Homer
The Claiborne Chamber of Commerce now has monies to lend through the Revolving Loan Program. Anyone who is interested in starting a business or enlarging an existing business within Claiborne Parish may be eligible. These funds were received from the USDA Rural Business Enterprise Grant Program to assist small businesses and provide for jobs in Claiborne Parish. Loan preferences will be made on the basis of job creation. Further information may be obtained by contacting John Watson, Executive Director of the Claiborne Chamber of Commerce at (318) 927-3271. The Claiborne Chamber of Commerce is an equal opportunity provider. To file a complaint of discrimination write USDA, Director, Office of Civil Rights, 1400 Independence Ave. S.W. Washington, D.C. 20250-9410 or call (800) 795-3272 (voice) or (202) 720-6382 (TDD).
Smoke Detectors For The Elderly Offered through TRIAD
TRIAD of Claiborne wants all seniors age 65 and above, to have a smoke detector. You may also qualify if you're disabled. Having a smoke detector can mean the difference of life or death. Smoke detectors are available without charge. If you don't have a smoke detector, call 927-2011.