Notice: Solicitors not from CPSB
            We appreciate your support of Claiborne Parish Schools through the years.  I want to caution you before changes are made to your child educational program or signing up for online or courses being offered outside of Claiborne Parish Schools.  It has come to my attention that individuals are going door to door soliciting personal information on students and offering electronic devices for student participation.  These persons are not affiliated with Claiborne Parish Schools.  Anyone representing the Claiborne Parish School Board will have an official letter either from the school principal or the parish superintendent.  Please use extreme caution when giving out your child's demographic information to door to door solicitors.  We encourage you to contact your child's principal before making a commitment to these solicitors as it could have a profound impact on your child's educational future.
Dr. Janice Williams, Superintendent, Claiborne Parish Schools
2013-14 CPSB budget up in the air
'Unconstitutional' education legislation leaves more questions than answers
MICHELLE BATES, Editor
            With Acts 1 and 2 being declared unconstitutional by the Supreme Court, those actions leave more questions than answers where school systems' budgets are concerned.
            In Thursday's Claiborne Parish School Board meeting, Business Manager Fred Evans went over some revisions to the 2012-13 budget, and in doing so, board members raised the questions of how the courts' decisions affect their budget.
Evans said he is working on a proposed budget for 2013-14, but he's having issues with the Minimum Foundation Program (MFP), which is the state's allotment to school systems for salaries and benefits for teachers and staff.
            "To be honest with you, I don't know what's going to happen with the MFP," he said. "It's totally uncertain. Act 2 was declared unconstitutional and the MFP was declared null and void from the get go. It's being null and void, what's going to take place? I don't know. As the weeks go on, my plan is to present a budget to you by the next meeting."
            Bob Hammonds, of Hammonds and Sills, representing the Claiborne Parish School Board and others against the state, explained some of the problems school systems are facing now that the court has made its decisions.
            "The situation is unparalleled in Louisiana," Hammonds said. "What the court said was the MFP that was approved for the 2012-13 school year -- the one that you're operating under now -- was unconstitutional, which is what we argued in district court. The district court ruled in our favor and the Supreme Court, by a vote of six to one affirmed.
            "The problem is the court said as a result of our ruling, the 2012-13 MFP was invalid from the outset," he continued, "that 2012-13 MFP called for the expenditure of about $3.4 billion, (and) that the $3.4 billion was spent unlawfully. The question is, how do you get it back?"
            With regard to the vouchers, Hammonds said, there was $25 million that was sent out to private and parochial schools.
            "And that's the reason we filed the lawsuit in the first place was to stop the money from going away from public education," he said. "We won, but how do we resolve that?"
            He said Gov. Bobby Jindal promised to "come up with the money from somewhere," but every program that can be cut has been.
            "In the State of Louisiana, they are continuing to cut," Hammonds said. "Now, the voucher program has grown by over 50 percent this year over last year. Last year was $25 million, and this year is probably $35 million to $40 million. Apparently, he can find, just by snapping his fingers, and find $40 million when he can't find the money to fund these other programs. To get that, though, he has to go back before the Legislature, because he can't get it from the MFP. That means it's going to have to be a line item appropriation, and if it's a line item appropriation, that means it has to be voted on as a part of the appropriations bill."
            Hammonds said, according to what he's hearing in Baton Rouge, this coming year's MFP is "dead on arrival," because it isn't getting much support from either the House or the Senate.
            "If they don't approve the MFP for this year, then it goes back to the BESE (Board of Elementary and Secondary Education) Board to try again and see if they approve a revised version," he said. "If they don't, then the law says you go back to the previous year's MFP. Well, the previous year's MFP was the 2012-13 year, which is now been declared unconstitutional. So that means, I'm assuming, that you go back to the 2011-12 MFP.
            "If you go back to the 2011-12 MFP, then the money for the vouchers, the money for a number of the charter (schools) was not in the 2011-12 MFP but was added to the 2012-13 MFP," he continued. "If you go back to the 2011-12 MFP, then all those payments that were made in 2012-13 should come back as well."
            One of the arguments in court was there were too many "objects" in the law, which is on the same basis as Act 1 being declared unconstitutional.  The district court said the topics were related enough that it didn't violate the State Constitution. Then, they also reversed the ruling in district court against the school boards on the issue of whether the MFP had the force and effect of law. One of the arguments made to the court was that the MFP, which called for the expenditure of $3.4 billion and went through the same legislative process, had the same force and effect of law.
            "It created certain programs that did not otherwise exist," he said. "So the argument was how can a funding formula that creates a program be any different from a state law that creates a program? Either way, you're creating a program and you should follow the same procedure."
            Procedures he listed included filing it in the legislature by a certain date, voting on by a certain date and it has to be voted on by the majority of the House and Senate.
            "We argued that [the MFP] should have been treated as a bill, and it didn't get filed timely, it wasn't voted on timely and it didn't get the requisite number of votes," he said. "The district court ruled against us on that, but the Supreme Court reversed and ruled in our favor on that too. So in addition to affirming the ruling on the MFP, they also reversed the ruling against us on whether or not the MFP really had the force and effect of law.
            "And that's really important, because what they're saying is the MFP has to be treated just like any other bill in the legislature," he continued. "All the processes in the passage of a bill are now equally applicable to the approval of the MFP."
Hammonds believes there are only two possible solutions to this issue. One is all parties are going to have to come together and figure out a way to resolve how it's going to be handled. Those parties include the BESE Board, the State Department of Education, the Commissioner of Administration from the Governor's Office and the school systems.
            The other option is to file another lawsuit to figure out what funding formula is in effect and who owes what.
            "Who owes back for the $25 million that was paid last year?" he asked. "Is it the schools that collected the money? Is it the state who paid it illegally? We don't have an answer to any of those questions, but we'll just have to look back to see."
            School Board President Will Maddox felt like the money wouldn't be seen again.
            "I feel like once the money is gone, it's gone," he said.
            "If the governor can find $40 million to pay for the vouchers, then why can't he find the $25 million to pay you back for the illegal expenditures made last year?" Hammonds responded.
            "That's a good point," Maddox said.
            Last year, the Louisiana Legislature passed Acts 1 and 2, a sweeping education reform package that allows students who meet the criteria to attend schools of their choice through the voucher system, and also changed the way faculty is evaluated. It also changed many other things, and once these legislative pieces were passed and signed by the governor, lawsuits began popping up arguing the unconstitutionality of the changes.
During the 2012 legislative session, teachers from all over the state flooded Baton Rouge in opposition of the education reform package. While teachers agreed changes in the education system needed to be made, this wasn't the way to do it.
            And since its passage, the Claiborne school system has operated under the confines of the new legislation while they, along with every other school system, awaited the outcome of the suits in court. Now that it's been declared unconstitutional, Central Office will have to just wait and see what happens.
            In other budget news, a motion to approve Revision 1 of the 2012-13 operating budget was passed unanimously, with District 4 School Board member Yolanda Coleman absent.
            Evans explained some of the revisions in the budget, including the reduction in the MFP by $369,000 due to the loss of 89 students from February 2012 until February 2013.
            Salaries and benefits are still running at roughly 88 percent, he said, with salaries decreasing by $100,000 and benefits decreasing by $256,000.
            Total revenue was $15,131,000 and total expenditures were $15,840,000. The excess this year is about $291,000, which is much better than what the school board has faced over the last three or four years.
            Food service has decreased by $72,000, Evans reported.
"We could only decrease expenses by $20,000, which means we had a $52,000 turnaround," he said. "At the end of the budget year that we had budgeted previously, we were anticipating a fund balance of $32,309. With this negative $52,000 turnaround, that means we'll leave the end of the year, hopefully, with an $84 balance."
            The reason for the decrease, Evans said, is less participation. They aren't serving the meals they were serving previously. Paula Becker, food nutrition supervisor, said it also comes from a reduction in the number of students they are feeding as well as the increase in cost of food. With the new nutrition requirements, schools are now required to serve more fresh fruits and vegetables, which has put a strain on the food service budget.
            Although the federal allotment has been increased, Becker said it still wasn't enough to fully cover the costs they are incurring.
            In other news, the school board also approved a ratification to all personnel actions from July 1, 2012 to present, which means the school board approved personnel actions during that period of time. Because Acts 1 and 2 have been declared unconstitutional, this means personnel actions revert back to the need for approval by the school board.
            After the passage of that legislation, personnel matters were placed into the hands of the superintendent, instead of by the school board.
            Along those same lines, the school board was happy to approve the appointment of Paul Bean as the principal for Homer High School. The previous principal, the late Clifton Lewis, fell ill and Mr. Bean stepped in as interim principal.
            Also approved was the appointment of Rhonda Hatfield as special education supervisor.
            With the retirement of Homer Elementary Principal Debra Winzer, the school board approved to advertise for the elementary principal position.
            The next school board meeting will be at 6 p.m., June 6, in the board meeting room at Central Office, 415 E. Main Street in Homer. For more information, or for questions, please call their office at 318-927-3502. Beginning Thursday, May 23, Central                                                                       Office hours will change to summer hours, Monday through Thursday, from 8 a.m. until 4 p.m., and the office will be closed on Fridays.
School board honors 2013 retirees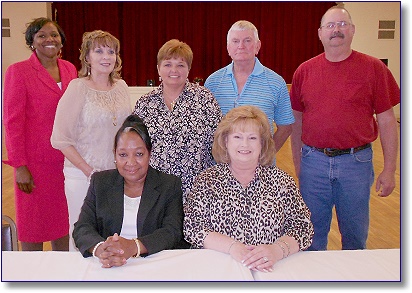 The Guardian-Journal photo/Michelle Bates
The Claiborne Parish School Board honored its retirees this year with a reception at Homer City Hall. Each retiree was presented a plaque in appreciation for their years of service to Claiborne Parish Schools. All retirees gave a combined 226 years of service to education, with 76 years outside Claiborne Parish. Pictured at right are, back row from left, Superintendent of Schools Dr. Janice Williams, Denice Owens, Connie Winn, Jack Bays, and School Board President Will Maddox. Seated, center are Sovella Thompson and Wanda Merritt. Not pictured are Debra Winzer, Joe Green, Debra Harmon-Morgan, Bradley Smith, Marilyn Holyfield and Ted Waller.
Town's health insurance reinstated
The Guardian-Journal
            Health insurance has been reinstated for the Town of Homer employees as of May 6.
            According to a certificate from Blue Cross Blue Shield, given to The Guardian-Journal by Homer Police Chief Russell Mills, it shows the date of the certificate as May 6, 2013.
            "This certificate is evidence of your coverage under this plan," the statement of HIPAA Portability Rights says.
            In the monthly meeting of the Homer Town Council, retired employee Linda Dean asked Mayor Alecia Smith about their healthcare coverage, saying her husband had gone to get prescriptions filled that day and learned they didn't have healthcare coverage. When she said she didn't hear back from anyone at the town office after inquiring about it, she called the insurance company, where she learned she and her husband had not had coverage since March 31.
            Lt. Roger Smith also spoke up during the meeting, saying he didn't have health coverage either.
            Mayor Smith assured Dean the insurance premiums had been paid and held up a piece of paper saying she had the cancelled check in her hand.
            It is not known at this time whether the insurance termination was due to nonpayment or if there was an issue from the insurance company.
            Chief Mills has requested all the cancelled checks to show where the premiums were paid, but according to the response from Town Attorney Marcus Patillo, the chief is not allowed to view or receive copies of those cancelled checks, stating it's a violation of "HEAP" laws. Handwritten on the chief's request, Patillo writes, "Not public records, violates 'HEAP'" And next to the outlined documentation requests, the word, "No," is handwritten beside each one.
            According to Chief Mills, it is presumed he meant HIPAA laws, which protect the privacy of an individual's medical records.
            This issue is one in a laundry list of questions the citizens of Homer have asked Mayor Smith and the council about. There have been issues with nonpayment of bills, particularly patrol unit repair services for the police department.
            Matt Simmons, owner of Gordon's Service Center, has been before the council at least twice in reference to an invoice that had not been paid. While it has now been paid, Chief Mills said he is now required to bid out every repair and turn in a purchase order to get repairs done on his patrol units.
            Other questions have come in light of the town's budget, the mayor and council's travel expenses as well as other issues.
            It comes on the heels of a meeting in February in which the town council voted to disband the police department and do away with term limits for the mayor and council's positions. An injunction was filed which stopped the council from being able to enforce its vote to disband the police department and in March, Second Judicial District Judge Jimmy Teat ruled in favor of Chief Mills and his department.
            Four days later, Chief Mills, in his capacity as a voting citizen of Homer, filed a suit against the town citing open meetings law violations in its attempt to do away with term limits. In 2002, a referendum vote squashed the council's earlier attempt to do away with term limits.
            Also, an amended petition is still pending in court regarding the police department's budget, where, according to the petition, Chief Mills believes the town was attempting to slash his budget to the extent to render the department inoperable.
            The council withdrew its vote to disband the police department, withdrew its vote to do away with term limits and also withdrew its introduction of an ordinance regarding the police department.
            The hearing on the pending petition is this Thursday, May 16, at 9:30 a.m. at the Claiborne Parish Courthouse.
Homer Lions Chicken Charbroil set for May 24
            The Homer Lions Club is selling tickets for this year's Chicken Charbroil! Tickets are $7, and plates include chicken, beans, potato salad, bread and a dessert. Plates can be picked up in the parking lot at Regions Bank 11 a.m. until 1 p.m. If you have not gotten your ticket(s), please contact any Lions Club member to get them!
Police budget hearing set for this Thursday
The Guardian-Journal
            The hearing regarding the amended petition filed by Homer Police Chief Russell Mills against the Town of Homer and Mayor Alecia Smith is this Thursday at the Claiborne Parish Courthouse.
            Filed March 4, the suit alleges the town council attempted to slash Chief Mills' budget so drastically that the police department would not be able to operate by introducing an ordinance to amend the 2013 budget in regards to the police department.
            While the council had tabled the introduction of that ordinance later the same day in its regular meeting, it was completely rescinded in the monthly meeting on April 4. The town then filed an exception claiming the issues before the court at that time were moot. Pam Breedlove, attorney for Chief Mills, filed a memorandum of opposition to the exception, saying the actions weren't moot as claimed by the town's defense.
            "Instead of immediately withdrawing the ordinance, the Town continued its manipulations both before and after it finally withdrew the ordinance," she states in the memorandum. "The mayor is refusing to pay standard police expenses and is attempting to prevent Chief Mills from properly operating the police department by interfering with his budget and expenditures in violation of state law effectively altering the police department appropriations without [formally] amending the budget."
            On Saturday, March 2, the council introduced Ordinance 13-003, the ordinance aforementioned, and then on March 4, the evening of the council's regular meeting, Town Attorney Marcus Patillo said the ordinance would be tabled. However, the council never made a motion, seconded or agreed to table the introduced ordinance. It was then in April the council withdrew and recalled its vote to introduce the ordinance.
            This hearing comes on the heels of the last suit Mills filed when the town improperly tried to do away with term limits for the mayor and the council. The council previously withdrew its vote to do away with the term limits in a meeting before the hearing.
            The term limit suit was filed March 8, just days after the court ruled in favor of Chief Mills, effectively stopping the disbandment of the police department. The council voted in February to disband the police department, citing budget over runs, concerns of leadership and numerous pending lawsuits. Within hours, an injunction was filed on Mills behalf to stop the enforcement of the council's vote until a hearing could be held.
Multi-agency investigation nets drug arrests
The Guardian-Journal
            Seven people have been arrested following a five-month investigation by the Claiborne Narcotic Enforcement Team (CNET).
            On May 10, all seven were arrested for distribution of a controlled dangerous substance, cocaine or marijuana.
            In January, CNET initiated an investigation into the distribution of controlled dangerous substances in areas east of Homer.
            This investigation led to the arrests of:
            • Evelyn Winzer, of 330 Franklin Estate Road in Homer, for two counts of distribution of Schedule I CDS marijuana
            • Clifford R. Crew, of 330 Franklin Estate Road in Homer, for one count of distribution of Schedule I CDS marijuana
            • David W. Casey, 23016 La. Highway 2 in Homer, for two counts of distribution Schedule II CDS cocaine
            • Charles Casey, of 23016 La. Highway 2 in Homer, for one count of distribution of Schedule II CDS cocaine
            • George E. Shelton, of 22949 La. Highway 2 in Homer, for one count of distribution of Schedule I CDS marijuana and two counts of distribution of Schedule II CDS cocaine
            • Denetria Patterson, of 238 Green Road in Homer, for one count of distribution of Schedule II CDS cocaine, and
            • Demarius D. Willis, for four counts of distribution of Schedule II CDS cocaine.
            Additionally, CNET served two search warrants on the same date. The first warrant was served at 330 Franklin Estate Road, the residence of Evelyn Winzer and Clifford Crew. This search led to the seizure of the Schedule I controlled dangerous substance marijuana, two firearms and other drug-related evidence.
            This led to additional charges against Winzer for possession with intent to distribute marijuana and illegal possession of a firearm.
            Clifford Crew was charged with possession with intent to distribute marijuana. Winzer was later booked into the Claiborne Parish Women's Jail with bond to be set. Crew was later booked into the Claiborne Parish Detention Center with bond to be set.
            The second search warrant was served at 238 Green Road in Homer, the residence of Demarius Willis and Denetria Patterson. This search led to the seizure of marijuana, cocaine and two firearms.
            Willis was additionally charged with possession of marijuana, possession of cocaine and illegal possession of a firearm.
            Patterson was charged with possession of marijuana and possession of cocaine.
            Willis was booked into CPDC with bond to be set, and Patterson was booked into the Claiborne Parish Women's Jail with bond to be set.
Sheriff Ken Bailey stated that operations like this take a lot of time, determination, hard work and money. These cases were initiated and worked by Agent James Spillers, Detectives Adrian Malone and Darren Keel.
Additionally, Sgt. Van McDaniel, of the Homer Police Department, was a major asset to this investigation.
            "As I have said many times in the past, the cooperation that occurs daily between law enforcement agencies in Claiborne Parish is a major tool in our fight against crime," Sheriff Bailey said. "The other tool in this fight is public assistance. Information that we receive from the good citizens of Claiborne Parish is why law enforcement can succeed in investigations like this."
            Sheriff Bailey, Haynesville Police Chief Anthony Smith and Homer Police Chief Russell Mills encourage the public to notify area law enforcement agencies of any suspicious or illegal activity that is going on in their neighborhoods.
            Concerned citizens can call CNET at 318-927-9800, the Homer Police Department at 318-927-4000, the Haynesville Police Department at 318-624-1355, or the Claiborne Parish Sheriff's Office at 318-927-2011.
            Any and all information is considered confidential and is greatly appreciated.
School board a step closer to 'unitary' status
The Guardian-Journal
            The Claiborne Parish School Board is one step closer to being declared a unitary school system.
            In Thursday night's board meeting, the school board unanimously granted permission for Attorney Bob Hammonds, of Hammonds and Sills, to move forward with asking the federal court to declare Claiborne unitary.
            District 4 School Board Member Yolanda Coleman was absent.
            "We met on April 30 regarding this matter," said Superintendent of Schools Dr. Janice Williams. "There was a lot of discussion regarding unity status, and we're here now for the board to make the final decision as to whether or not they wish Mr. Hammonds to proceed with filing unitary status. We have worked diligently since 2009 to try to keep everything in force and in place per the agreement."
            The motion was made by District 7 School Board Member Tommy Davidson and seconded by District 4 School Board Member Dr. Robert Haynes. The motion was passed with a roll call vote, with 8 yeas, one nay (by District 10 School Board Member B. Stewart Griffin) and one absent.
            District 2 School Board Member Linda Knox asked what will be done about setting policies once the case goes before the court. School Board President Will Maddox suggested getting all its policies and procedures in place before it goes before the court; however, Hammonds suggested waiting to do that until a final ruling has been made. Hammonds said it would take some time to set those policies, suggesting it would take at least three months, if not longer.
            "I don't think you have to be in a huge rush, because it is going to take a little bit of time," Hammonds said.
            Griffin asked about the kind of policies that would have to be put into place.
            "We need to need to know what we're doing and how it's going to work in our system," he said.
            Hammonds cautioned that even though he will file a motion to declare unitary status, it doesn't mean the court will grant it.
            "If you do all that work to change the policies and the motion is denied, all that work was for naught," Hammonds said. "So it may  be better to see if you can get it first and if you can get it, then you can sit down and start looking at the policy changes that you want to make for the future.
            "What this will do, if the court approves your motion, then your long-standing lawsuit is over and dismissed," he continued. "And at that time, the control of the school system is returned to the board. Then at that time, the board can adopt the policies and procedures that they feel are best for the children of Claiborne Parish."
            Currently, in order to change policies and procedures, the board has to have court approval. If unitary status is granted, that will no longer be the case.
            Some school systems were never sued in a desegregation case, he said, which means they never lost the power to set policies and procedures. If Claiborne's motion is granted, then it will cease to become an issue of "race" and will become an issue of what's best for the students of Claiborne Parish schools.
            The issue of the teacher ratios was brought up, and Hammonds said with the unitary status, those ratios could no longer be based on race.
            "The ratios (black/white teacher ratios) can't be based on race," Hammonds said. "What you have to do is look at the issues of diversity and other things. Once you're declared unitary, no decisions can be based on race. You have to look at what's best for the system, what's best for the schools and you can't look at it from the perspective of white or black."
            In 2009, the Claiborne Parish School Board worked diligently to begin complying with a court order that it desegregate its schools. The order stems from a lawsuit filed in the 1970s, in which the courts ruled the school system segregated, and in order to become a unitary system, it had to comply with certain criteria.
            Staff at Central Office worked hard to make sure its residency requirements met the requirements of the court order and that the teacher ratios were in compliance at each school in the parish -- among other things.
            Claiborne schools had to comply with this order for three years, and it has gone above and beyond, following those same guidelines into a fourth year, of which it will continue to do so until the motion to be declared unitary is approved by the courts.
            The agreement was written in order for the court to be able to give any objections from year to year, and it has yet to object to anything Claiborne has done to meet the guidelines of the agreement. However, the school board will still have to file its reports until a ruling is made in the matter.
Talent Expo this Friday
            The BCG Talent Expo will be held this Friday, May 17 at 7 p.m. at the Claiborne Parish Fair Complex in Haynesville.
            Local celebrities that will be performing are Julie Bray - local singer, songwriter, guitarist; Tim Crittendon, local saxophonist; and Charles Hudson - poet, author.
            Finalists that will be performing are Elisha Robinson, Andrea Kirkindoff and Destined, Sierra Willis, Praise Dancers sponsored by Marco French, Kaiya Jones, Jakiriya Hunter and Lorin Taylor.
            Tickets are available from any finalist and from BCG workers for $5.
            This event is sponsored by the Boys and Girls Club of the Timber Ridge.
Jubilee is Memorial Day weekend
Artists, Chairs, Quilters and Vendors Sought for the Claiborne Jubilee
            The Claiborne Jubilee will be held May 25 on the Courthouse lawn and in the Homer City Hall. Art exhibits, vendors, musicians and a special Memorial Day Weekend observance will all be held outside weather permitting and in the City Hall in case of rain. The quilt exhibit will be inside in any case. Viewers' Choice judging will be closed in the City Hall at 2 pm and quilts may be taken away between 2:30 and 4 pm.
            Music and presentations will be held on the northeast corner of the lawn where seating will be available. Those entering art works to be judged should bring them between 8 and 10 am  to the south lawn for judging at 10:30. Art in all media and by all ages is welcome. Children may enter up to three pieces for no charge. The entry fees for those 18 and older are $6 each or $20 for four pieces.
            The popular art chair auction will be open for silent bids until 2 pm. Anyone who would like to decorate a chair to donate for the auction may use their own or request one to use. All completed chairs must be submitted by Wednesday, May 22.
            For more information on the Jubilee please contact Cynthia Steele at 927-2566 or .